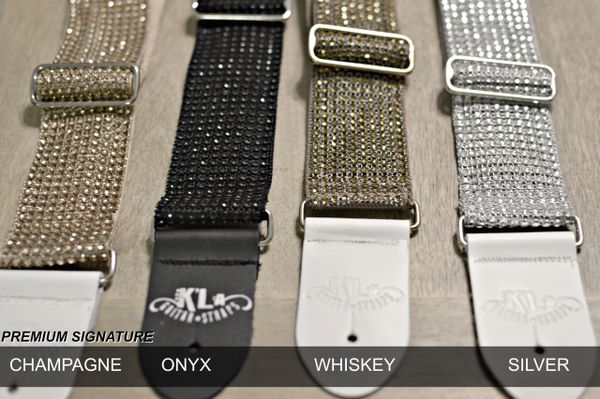 Premium Signature
PRODUCT DETAILS: 
K'LA STRAPS ARE HAND CRAFTED GUITAR STRAPS THAT ARE EMBELLESHED WITH CRYSTAL INSPIRED FABRIC. EACH STRAP IS DESIGNED TO SHINE ON ANY STAGE, NO MATTER HOW BRIGHT YOUR SPOTLIGHT IS. IT'S TIME YOUR GUITAR HAS A WARDROBE TOO.
PREMIUM WOVEN NYLON, STAINLESS HARDWARE, SEWN ON CRYSTAL MESH FABRIC.
 FeaturesAdjustable from 35 inch to 59.5 inches long. Maximum comfort for all performance situationsStrong and secure leather ends. 
All straps are handmade and made to order. Please allow 6-9 business Days production time plus shipping.